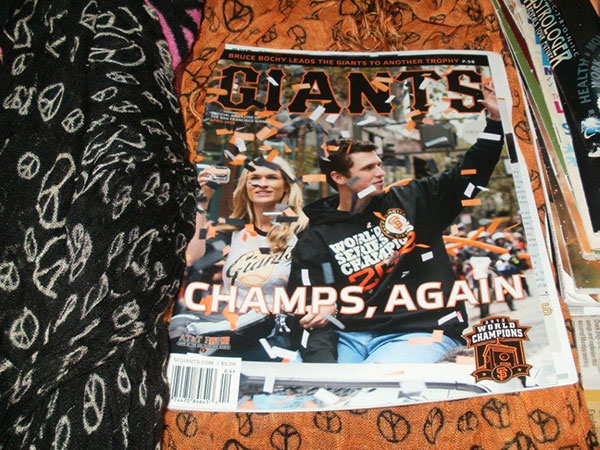 Bruce Bochy was born under the assertive fire sign Aries on April 16, 1955, in France, while his father was stationed in the military. Aries is the sign of the Ram and rules the head. It's amusing to note that Bruce's larger than normal hat size can create some challenges.
Bruce's Aries qualities highlight a competitive spirit. Energetic and forceful, Bruce personifies the headstrong pioneer. Aries is the sign of the warrior, embodying free will and great daring. His natural vitality stirs others to rally in support. His sense of purpose and dedication positively inspires players. There's almost a magical property in the way Bochy transforms others by his presence.
Ruled by Mars, Aries have an enormous need to be in charge. His drive, stamina, and commitment generate an aura of intense inner strength. Powerful, with persuasive leadership qualities, Bruce guided the Giants to their 2nd World Series in 3 years.
Gerald Dempsey "Buster" Posey was born March 27, 1987 in Leesburg, Georgia. Aries heralds the beginning of spring and symbolizes action and iniative. A natural born leader, Buster was named NL Rookie of the Year as the Giants won the 2010 World Series. In 2011, he missed most of the year after being severely injured him in a collision at home plate. Courageous Posey returned from his injury in 2012, winning the 2012 NL batting title. Aries is the stuff of heroes, and hate being on the sidelines. He was named the NL MVP in 2012, after winning his second World Series.
With Jupiter also in Aries, Buster's blessed with abundant optimism and self-confidence. His good will and friendliness wins him many allies. Expecting the best, this franchise player usually gets it. The joy of competing (and especially winning!) runs deep in Buster.
Hunter Ganglish Pence, fiery Aries inspirational orator, was born April 13, 1983 in Fort Worth, Texas.
Obtained in a deadline deal from the Phillies on July 31, 2012, his rousing, motivational speeches have been credited for the Giants' turnaround during their 2012 postseason and World Series win. Complete with animated eyes, this effervescent Aries gave his teammates a passionate and spirited pregame speech that will go down in Giants history, beating the Reds, advancing to the NLCS.
Always ready to stir things up, bring in some fresh blood, swashbuckling Pence initiates things others will later emulate. Taking risks and following his own star are the breath of life for him.
Spontaneous, direct and assertive, this emotional leader believes in the power of positive thinking and action. A sharp mind and tongue to match, high spirited Hunter expresses thoughts in a decisive, convincing style. No one has to guess what Hunter's true feelings are!