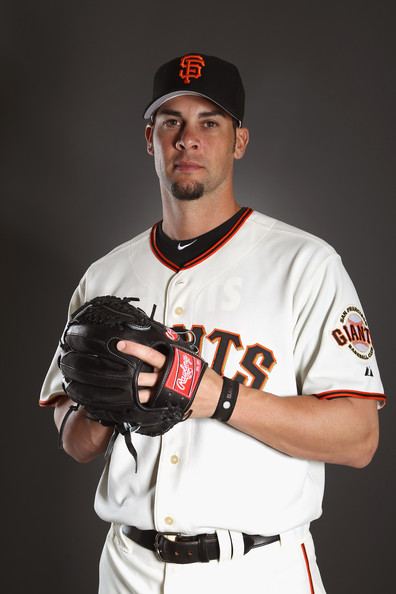 Ruled by the ever-changing Moon, and belonging to the Water element, Cancers are highly emotional beings. Like the tides, Cancers are resolute, powerful forces moving beneath the surface. Enter Giants pitcher Ryan Vogelsong, born July 22, 1977, in Charlotte, North Carolina. Ryan's legendary Game Face masks the churning intense emotions. The Cancerian Crab is an ideal symbol, using their shell as protection when feeling vulnerable. Food, family and feelings predominate their world.
Born to nurture, Ryan was affectionately dubbed the "Freak Whisperer", after cameras showed him comforting a frustrated Tim Lincecum after a difficult inning last season. Sympathetic Cancers need to be needed, and are very sensitive to the emotional needs of others.
If you look up "tenacious" in the dictionary you may very well see a picture of Ryan "Vogelstrong." In addition to an earlier stint with the Giants from 2000-2001, Ryan played for the Pirates for 5 years, then an odyssey that included 20 stops in minor league cities, and the Japan League for the Hanshin Tigers.
Cancer's roller coaster emotions parallel Ryan's vocation, as his career was revitalized when he established himself as a dominant force in the fifth spot in the Giants 2011 rotation after Zito got hurt. He made the 2011 All-Star team, and was awarded the 2011 Willie Mac Award.
Continuing to dominate in 2012, in the Postseason he played a pivotal role toward the World Series title, and was the only starting pitcher to go undefeated. His persistent performance solidified his status in the Majors.