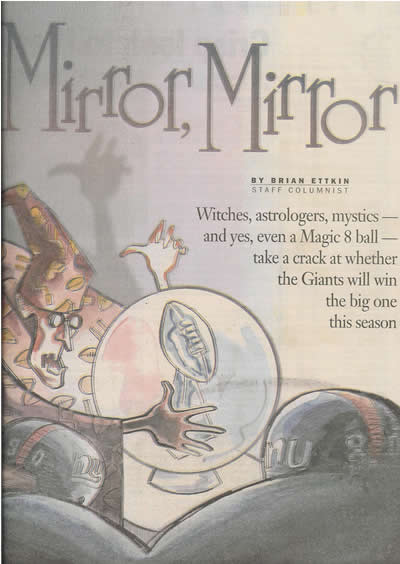 On a bookshelf in the witch's reading room, among scented candles, burning incense and a crystal ball, is a black vessel. The cremated remains of a cat are inside, its name scrawled across the urn.
The cat's name was Tiki. An ominous sign.
I sit across from Tita the witch, and hand her pictures of Jim Fassel, Kerry Collins, Michael Strahan, Jeremy Shockey and, yes, Tiki Barber, taken from the Times Union photo library.
Then I ask the question: "Are the New York Giants going to win the Super Bowl?''
Tita is clairvoyant. Says so on her business card. The South Bethlehem witch has been profiled in People magazine. When Tita was a girl, she says, her mother would chastise her for reading her thoughts and telekinetically passing the butter at the dinner table.
"She was nasty anyway,'' says Tita, who speaks six languages and is wearing slippers. "Sorry, Ma, but it's true."
One time Tita exorcised a spirit who was inside the floor of a Delmar bridal shop. Every time a customer walked by, the dirty old ghost would whistle. Tita's husband, Wally, says he wouldn't have believed it if he hadn't seen it.
Anyway, for a $40 fee, Tita closes her eyes and focuses on the pictures' energy.
Some of her observations:
On Fassel: "He might be ill, stomach problems."
On Barber: "This guy makes enemies. He's got a quick temper and some of the guys get upset with him, because he says things when he shouldn't."
On Shockey: "He's hot-tempered, but he controls himself. He's not quick (to anger) like (Barber)."
And, pointing to one of the five pictures, she says that person is gay.
She also predicts a supermarket tabloid will pay me a large sum of money for that information.
OK, I made that one up.
She does say the Giants won't make this season's Super Bowl.
"The playoffs,'' she says, "are as far as they'll go."
I show her pictures of Philadelphia's Donovan McNabb and Tampa Bay's Brad Johnson, quarterbacks of teams that may stand in the Giants' way. I ask if she could put a curse on them, maybe break McNabb's other leg or turn Johnson into a yardstick.
She smiles. She will not. She's a Christian witch.
"That doesn't mean that my powers are diminished in any way,'' she says.
If given seven days and $80, Tita says she could block the quarterbacks.
"They would just suddenly run out of energy,'' she says.
It is fun to metaphysically alter the course of an NFL season. ***
Tune to late-night infomercials and there are psychics. I call a couple, at $4.99 a minute, and keep the conversations brief because, well, how do you explain all this on an expense report?
First up: Brigitte Nielsen's Witches of Salem Network. A witch named Cherish answers the phone.
Me: Why didn't it work out between Brigitte and Mark Gastineau?
Cherish: There was a betrayal that went down between the two of them.
Me: OK, are the New York Giants going to win the Super Bowl?
Cherish: (Long pause) I'm focusing my energy. That's why I took a second there. It's going to be real close, but they're going to lose in the end. It seems like they're missing a player.
Me: Why don't you go out for the team?
I try to call Dionne Warwick's Psychic Friends Network, but it went out of business. A psychic couldn't foresee that.
I ask Strahan if I may have his tube socks so a psychic can give him a reading.
The 275-pound guy who pulls quarterback's skulls from helmets looks at me as if I am an alien.
He keeps his tube socks. ***
Andrea Mallis, an astrologer who reads baseball players' astrological charts and has appeared on ESPN SportsCenter, is eager to try football. I feed her the birthdays of Fassel, Giants owner Wellington Mara and some key players.
Most disconcerting is that Kerry Collins' Saturn is in transit, so "his vitality is at an all-time low. It's a very discouraging time,'' Mallis says. "His leadership will be challenged by those who are older or in positions of seniority."
He also is more vulnerable to injuries.
"If I was his astrologer I'd tell him to be really careful or as careful as he can be,'' Mallis says.
Fassel didn't play Collins in the preseason finale against the Ravens. It's as clear as a crystal ball why.
Mallis says the charts of Fassel, Barber, Strahan, Shockey, and Amani Toomer look positive.
It's Mara we should worry about.
"He's going to have a time of intense ego conflicts with others,'' Mallis says. "There's some major clashes coming. He will come across people whose goals are intrinsically opposed to his. He may constantly be in a state of suppressed rage."
She says Mara is high-strung, nervous and a nonconformist, just like one of his players: Jeremy Shockey.
Super Bowl or bunk.
I consult Tyco's Magic 8 Ball, which you can buy for $6.99 at your local toy store. I rub, then shake the plastic-encased oracle, and ask if we can make Super Bowl reservations for the Giants in Houston.
"Outlook not so good."
Best two out of three?
The Ouija board is on my lap. Spirits are said to move over the game board, answering questions by spelling answers.
The spirit tells me his name is Satan, and I should leave him alone.
I get no response every time I ask Satan about the Giants, but he does offer me a one-week, all-expenses-paid vacation to the South Tropics -- in exchange for my soul.
Spirits are notorious for their sense of humor.
A Colonie psychic named Angela is giving a Tarot reading on the Giants' fortunes. Mine, too.
Angela: The Giants will have a winning season.
Me: How many games will they win?
Angela: Four. (Apparently, psychics aren't good at computing winning percentages.)
Angela: You will be traveling soon.
Me: You're right. I am leaving for Boston in a few days.
Angela: There's a lot of people there who love the Giants.
Who knew?
I leave her living room not knowing what to believe.
There is one more entity to consult. Everyone join hands. The seance may now begin.
Tiki, is that you ... Tiki ... Tiki?
Contact Brian Ettkin at bettkin@timesunion.com